The first of Wallace And Gromit's "Cracking Contraptions" is released on atomfilms.com.
Also Nick Park does an interview on BBC's Talking Point.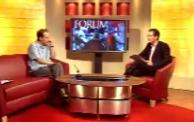 I was able to view this show through an online broadcast at 10:45 EST (3:45 in the UK), transcripts are available through bbc.co.uk. Nick Park discussed several things during this interview, the questions all came from people emailing. Some of the highlights I have noted here
Gromit's character started out as a cat! A dog was chosen finally for the role because of the greater flexibility allowed in facial expressions.
It took about 3 months to shoot Soccamatic (the first short in Cracking Contraptions)
Nick Park's favorite movie? The Wrong Trousers
When asked whether or not Wallace and Gromit really did "save Wensleydale cheese" he seemed a bit unsure at first, but did admit they gave him a lot of credit.
In Chicken Run they did use some CGI, some things such as Smoke, Fire, and even the Gravy were too difficult (or expensive) to do otherwise.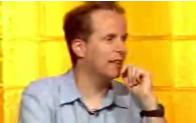 While Wallace and Gromit are made of plasticine, they have wire frames inside that are used to help them keep their shape, each character is molded in casts to keep a consistent shape.
As the characters have metal frames, often the floors of the sets are magnetic, to help the characters stand up properly.
After the Feature Film that is in the works Park hopes to get back to doing the 30 minute episodes.
He shapes his movies much like Hitchcock thrillers.
About the upcoming movies…:
It is a full length feature, still in the script writing process, to be in production "quite soon"
The plot deals with characters growing vegetables for a local contest… and something "goes wrong" and Wallace and Gromit must come to the rescue!
"A Wallace and Gromit Vegetarian Hitchcock Thriller"