The Official Wallace and Gromit website now has an exclusive Wallace and Gromit store. With items from stuffed animals and watches to carrying bags and collectable figurines. And yes, they do ship internationally as long as you pay by credit card, although buyer is responsible for any and all duties/taxes that come from shipping internationally (I usually use ebay's currency converter to convert international currencies: Currency Converter).
Check it out: Wallace & Gromit online shop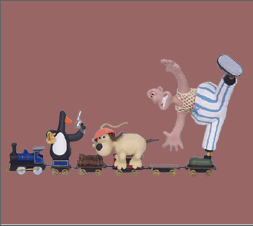 The DVD release of Cracking Contraptions is coming out in Japan 'soon' .. unfortunate still the only way to see them in the US is through a subscription at AtomFilms.com.