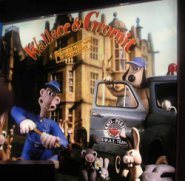 To the left is a photo of the rumored movie poster for the new Wallace and Gromit film. How exciting! Sources tend to lean toward the title being "The Curse Of The Were Rabbit." (Source of this photo aintitcool.com, thanks to Georg Bauer for this link)
Sky News reports the first glimpse of Wallace and Gromit's stills being released, and also offers a bit of information about the film:
The film is set for release in autumn 2005 and sees veggymania hit the pair's neighbourhood in the run-up to the annual giant vegetable competition. The animated faves become pest control experts Anti Pesto and business is booming until a veg-eating monster starts attacking plots.
A couple of shots from the new film are at darkhorizons.com, which are a pretty cool first glimpse. (Thanks again to Georg Bauer for this link)
Because of this new information, I have pulled together sections of this site specifically dedicated to the new film. The Wallace and Gromit movie now has it's own movie and pictures section. And in light of contributions by Georg Bauer, I have added a contributers section, and encourage others to send in contributions for this site!