The new Shaun the Sheep kids series from CBBC launched this month with a great deal of fanfare. Digital Outlook was hired to develop the website, which Daniel Brett dropped me a link to as soon as he knew about it (before I did!):
ShaunTheSheep.com – Official site with show clips, information about it worldwide, news and other great stuff. Very cute!
Telegraph.co.uk: Shaun the Sheep returns with his own show – nice article with show clips
BBC.co.uk: In pictures: Shaun the Sheep – Some behind the scenes shots of the show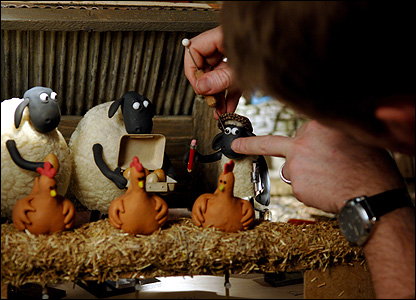 Now unfortunately for those of us in the United States there is not yet a contract to release Shaun the Sheep here! I went to the official site a few weeks ago and it said the info about a US deal was "coming soon" – but now going back I don't see any information about it. We can only hope a deal is struck eventually, or that we get a DVD release here. I want to see Shaun! 🙂
And now for some articles about Peter Sallis, the voice of Wallace. We don't hear from him regularly, but it's been a big news month for him.
Sallis: 'Wallace and Gromit are better without Hollywood' – Among other things, Sallis explains that he likes the 30 minute Wallace and Gromit films more than the feature length one.
Star Sallis shares experiences – Just a short article about an interview he did, gives us a quick glance into who he is.