Back in July you might recall that a Wallace and Gromit flower display at the Royal Horticultural Society (RHS) Flower Show at Tatton Park in Cheshire won a gold metal! I never reported about this, but an article about it is here. The news now is that the display has been moved to a local florist in Preston to remain on display, according to this article in the Lancashire Evening Post:
Margaret Mason, who runs the Friargate florists, said: "It would have been a shame if they had ended up in a cardboard box. It will be the in the shop for a few weeks.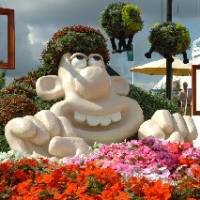 The next bit of news is just a note to mention that
Hit Entertainment
is going to manage licensing and home entertainment rights in the US and Canada. According to
this article on c21Media
:
Hit will manage the rights to three properties: Wallace and Gromit, Shaun the Sheep and Aardman Classics. Stephen Moore, chief operating officer at Aardman, said: "Hit's talent at managing top international brands will give Shaun and Wallace and Gromit a great springboard for tremendous success."
This is exciting news for those of us across the pond. In spite of their movie debut in the US their influence has been somewhat limited, perhaps with the backing of such a big firm their influence will start to grow.