First off, following my last post about the Harvey Nichols ad campaign starring Wallace and Gromit, Ben Riches sent me high resolution photos of a couple of the, you can download them here:
Thanks again Ben!
Next in the news is the Science Museum in London announcing the hosting of a Wallace and Gromit inventions exhisibt in 2009: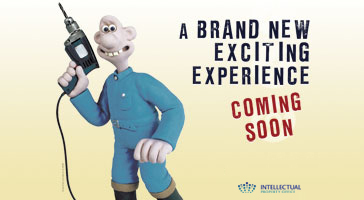 Aardman has also launched their own YouTube channel, check it out here: http://www.youtube.com/aardman
What has the Wallace And Gromit Children's Foundation been up to? They are now planning a Tea Party! Check out their site for how to donate and take part: Wallace & Gromit's Tea Party
RSVP and we will send you a fantastic Wallace & Gromit Tea Party pack with all you need to make your tea party a great success ! Included in your Tea party pack are some fantastic Wallace & Gromit invitations so you can invite your friends, family and work colleagues to join your party !
Big update to the filming of the new film, A Matter of Loaf and Death they met their shooting deadline on the 10th of October. Now what?
Once we've finished we'll send all the footage to Nick Park. The next stage is called the 'picture lock' where Nick finalises all the shots he wants to use in the final cut of the film. The finalised version is then passed on to several departments to add the finishing touches. This includes finishing off the visual effects in the CGI department and adding music and sound effects. This process is extremely important – we have already gone through 2 versions of the music trying to make sure that it is right for the look and feel of the film – it's amazing how much of a difference it can make!
Well done!! More details on the site: Film Production Blog: Filming on AMOLAD…1 day left!