First up, we've got a great little Gallery from guardian.co.uk showcasing 18 photos from Wallace and Gromit from their first short until now: Gallery: Wallace and Gromit in Pictures
In preparation for A Matter of Loaf and Death I read over at Animation Magazine (Promo Deals for Wallace and Gromit), the duo teamed up with Kingsmill for a promotion that includes prizes, and a whole Wallace and Gromit section of their site! kingsmillbread.com/wallaceandgromit/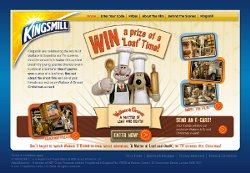 Another deal was struck with Pyrex, as mentioned in several articles including licensing.biz Wallace and Gromit sign promotions:
A further tie-in with Pyrex offers exclusive collectables free with selected non-stick bakeware at Asda Living adn Superstores and independent retailers. Five sets are available including an oven glove, tea towel, shopper bag and pan rest.

Aardmand Rights head, Sean Clarke said: " Wallace and Gromit coming back to BBC1 is truly a big event and Aardman has been very happy to develop some fun adn entertaining Wallace and Gromit BBC1 idents to support A Matter of Loaf and Death's premiere.

"We have also developed some fantastic promotional partnerships based on the obvious baking themes of the story with Kingsmill and Pyrex that provide a good platform to reintroduce fans to the world of Wallace and Gromit."
And while on the subject of endorsements, Bacheldre Watermill is producing a Wallace and Gromit flour! Bacheldre Partners with Aardman Animations for new Wallace & Gromit adventure film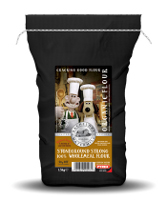 Bacheldre Watermill is proud to announce its partnership with AardmanAnimations and Pyrex, for the launch of Wallace and Gromit's new adventure film 'A Matter of Loaf and Death'.  Bacheldre Watermill is offering fans the chance to copy the pair's latest baking bonanza by launching a range of limited edition Wallace and Gromit stoneground organic flour.

Bacheldre Watermill is a small family run mill, which has won numerous awards for their flour and is used is in some of the best kitchens around the country. Using Artisan skills and only the highest quality grains they have been able to grow the business year on year, and now are looking forward to the future working with such great brands as Wallace and Gromit and Pyrex.
Next up, Nick Park recently discussed some of his experiences working with Hollywood: Aardman animator on US culture clash:
Plasticine duo Wallace & Gromit are as British as tea and crumpets, but according to their creator, Hollywood tried to make them as American as apple pie.

…

He said: "DreamWorks took us on as a British team, but at times things could get very focus-grouped around what would appeal to American audiences.

"They love Wallace and Gromit over there, I think they just tried to Americanise the films without thinking because everything's got to be about America.

"I'm not trying to please some kid in some suburb in North America, whom I don't understand."
Aardman produced some short segments for the BBC back in December, you can see one of them over at guardian.co.uk: Wallace and Gromit star in BBC1 Christmas idents
The telegraph published a fantastic article about the success of Nick Park and Wallace and Gromit: Wallace and Gromit: one man and his dog
The AP reports a published copy of A Matter of Loaf or Death was pirated on YouTube prior to the official release on Christmas day, with Aardman saying they have "no idea" how the leak could have occurred: Wallace & Gromit pirated on YouTube
Nigel Kendall over at Times Online did an interview with Nick Park on A Matter of Loaf and Death, filming only took 7 months! Check it out: Nick Park on Wallace and Gromit: A Matter of Loaf and Death
Edward's Bakery made some Wallace and Gromit cakes in celebration of the premiere: Cake tribute to TV heroes Wallace and Gromit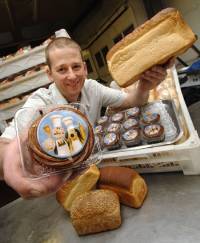 Son Duncan Edwards [pictured above] said: "We've baked some special Wallace and Gromit cakes to mark the screening of the new short film.

"The plaques that go on them are exclusively available only to members of the Master Bakers' National Association so we were pleased to get hold of some.

"There are some posters up in the shop too and it's going down well with customers."
Telltale Games has published some new screenshots and concept art of their upcoming Wallace and Gromit game: The Telltale Blog: Cracking screenshots, Gromit! and Telltale Games Wallace and Gromit Page
In case you were wondering, A Matter of Loaf and Death topped the charts for most viewed program on Christmas day in Britian, with 14.3 million viewers: The return of Wallace & Gromit helps BBC win Christmas ratings race