On September 29th (my birthday!) the leading publisher of graphic novels in the UK, Titan Books, will be releasing the first Wallace and Gromit comic!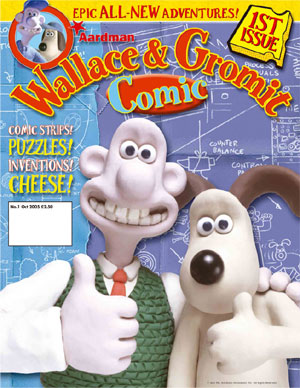 Following the success of Chicken Run, the Oscar¨-winning Aardman Studios now present their first feature-length Wallace & Gromit Movie, Curse of the Were-rabbit (out 14 October!)! And to coincide with this massive launch, we are delighted to announce the launch of the Wallace & Gromit Comic!
Every four weeks, Wallace & Gromit's crazy comic strip capers will bring you madcap inventions, amazing adventures and a whole host of new loveable characters!
Us US fans can't order it directly from the site, but I'll take a look around the web to see if we have other options.
Excited yet? Read more in an interview with the comic's editor, Steve White: downthetubes.net interview with Steve White.
The Titan Books website for the WnG comic is here: http://www.titanbooks.com/wallace_and_gromit/
Thanks to John Freeman of downthetubes.net for letting me know about the release of this comic!