The World Premiere of the WnG film occurred in Australia this past Sunday.
Heavy rain could not keep eager young fans away from the world premiere of "Wallace and Gromit: The Curse of the Were-Rabbit" in Sydney on Sunday.
The cheering crowd descended on Luna Park as director Nick Park introduced his claymation feature for the first time
Gromit comes to town – yourmovies.com.au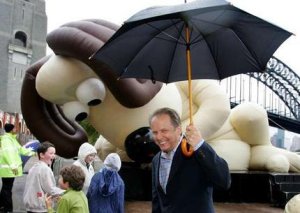 A giant inflatable Gromit that collapsed in the wind could have been a troubling sign. So could two security staff using night-vision goggles to watch for movie pirates.
But the world premiere of the first movie featuring the much-loved animated characters Wallace and Gromit proved to be what the eccentric, cheese-loving inventor would call "a cracking day" in Sydney yesterday. There was even free cheese.
And the night-vision goggles did not reveal any illegal filming.
…
His latest, Wallace & Gromit: The Curse of the Were-Rabbit, is opening three weeks earlier in Australia than in the United States and four weeks ahead of Britain to catch the school holiday audience.
"Australians have always been very receptive to Wallace and Gromit," Park said. "I think it's the love of things that are slightly offbeat and a bit quirky."
Park was surprised by the England-like weather, which led to the collapse of the giant inflatable Gromit as the audience arrived. "I actually didn't think it rained in Australia," he said.
…
While the were-rabbit was too frightening for a handful of very young film-goers, the movie has the same inventive comic charm as the shorts. With entertaining spoofs of King Kong and other classic horror movies, it promises to be "gouda news" for cinemas during the holidays.
Infra-red goggles to spot film pirates – smh.com.au
So the release date in Australia is even earlier than ours, it opens nationwide there on September 15th.