The news is just pouring in, I can't keep up! Rather than making an entry for each news article that I've come across in just these past few days I'm going to give you links to a bunch now.
Wallace and Gromit Take a Meeting – 2 page NYT article (may need to log in) that reviews some of WnG's past, and gets into the movie. My favorite bits are where Nick says "Cheese isn't sexy." and that he "had the idea in a pub in Bristol" when asked about were-rabbits.
Moviehole.com: Interview : Nick Park – A great article and interview with Nick Park. He plays with toys 🙂
Wallace & Gromit: Curse of the Were-Rabbit Preview – In depth Preview of the WnG game, aimed for a US release on September 27th. A somewhat negative review, but if gives some great game details.
Cheese to make big stink on movie – A cute article about a Gloucestershire cheese that "stars" in the movie. I especially love the "We're limited for space. We've got two people making the cheese. If we get another one, where will we park the car?" line
Cracking rumour Gromit… has Wallace deserted Wensleydale? – Another cheese article, shorter, and lets us know that "Cheeses may come and go… but Wensleydale is forever."
WnG Press releases from CardewClub.com – They're selling some amazing teapots and other kitchen items. I instantly fell in love with the teapot below! The toast rack is a close second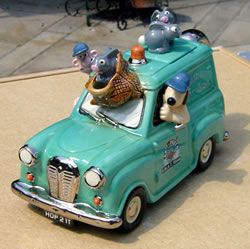 There are also tons of "fall preview" articles out there that include the WnG movie, probably the only one worth mentioning is this one: Nobody beats the wiz which has a longer blurb about it than most do, and the "You might have to be in the cult to appreciate it." comment made me laugh.