On the tail of Wallace and Gromit: The Curse of the Were-Rabbit's win in the "Outstanding British Film of the Year" category at the BAFTA awards, Wallace and Gromit make another victory, this time in the US with the winning of an Academy Award for Best Animated Feature! The 3rd award for Wallace and Gromit, and the 4th for their creator Nick Park!
I was excited while watching this, hoping that they'd get the recognitionthey deserved, the competition was pretty fierce.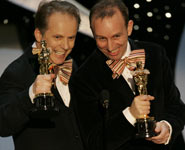 The Acceptance Speech:
Nick: Oh. Actually, we've got a little thing, just to match the old bow ties for coordination. We just happened to bring them along, just in case. Just want to give a great big thank you to Helena Bonham Carter, and particularly to Peter Sallis who has been the voice of Wallace. He's here tonight, ladies and gentlemen at the Oscars. He's been the voice of Wallace for the last 23 years and you've been an absolute gem, Peter and you've sparkled all the way. Also, thank you to Jeffrey Katzenberg and to Dreamworks, who also sparkle, and have been a great support to this very personal film of ours. And the whole crew back in Bristol, England at Aardman Animations thank you so much you're great. And a little message from Steve.
Steve: Somebody once said if you make a bad film, you make it alone. If you make a great film, everybody made it with you. We all made it together, guys.
Steve & Nick: Cracking cheese, Gromit.