First off, a UK DVD release date for A Matter of Loaf and Death! It'll be coming out on March 24th. Alas, while I will be visiting London at that time, there is no word yet on a US release of any kind, so I won't be coming back to the States to enjoy my own copy.
But fellow US fans don't despair! There is talk of a release, and while we wait we can snag the 20th Anniversary DVDs of the classics, which I believe is the first time they're being sold as separate DVDs (I had the old VHSs that came separate, but my DVDs have always been the Collections):
Next, we've got some news about the upcoming Wallace and Gromit game from Telltale games
Dave Grossman, a game developer for Telltale who has been involved with the development of classics like  Secret of Monkey Island and Monkey Island 2: LeChuck's Revenge, has been interviewed by Wesley Yin-Poole at videogamer.com in a fantastic and very thorough interview discussing the upcoming game: videogamer.com: Wallace & Gromit's Grand Adventures Interview. Not enough? Grossman also answered several questions for nowgamer.com: nowgamer.com:Wallace & Gromit's Grand Adventures Q&A. Still not enough? Adventure Gamers has published an in depth article PLUS an interview with Grossman and the CEO of Telltale, Dan Conners: adventuregamers.com: Preview: Wallace & Gromit's Grand Adventures. Phew!
And that's not all the news regarding the Telltale game! Issue 17 of Wallace & Gromit's cracking newsletter reports:
Telltale Offer Free Game to W&G fans
Telltale Games, creators of the new Wallace & Gromit videogame due to launch very soon, are offering Wallace & Gromit fans the chance to test out some of their other fantastic episodic games for free as a reward for completing their online gaming questionnaire. Take part now »
Moving on to toys for a moment, following in the high-quality figurine tradition, to commemorate their 20th Anniversary, Robert Harrop is releasing a collection of Wallace and Gromit toys! Their website has details: Robert Harrop Wallace & Gromit Figurines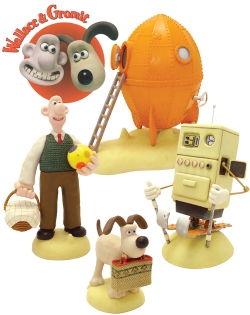 Now, remember that Harvy Nichols Wallace and Gromit ad? DDB London, the agency behind the ads, has snagged the Platinum Honour 2009 for it! The ads are now up over on the Creative Circle Platinum Honour 2009 page.
Finally, a playful concept product that would make Wallace proud: Wake Up to An Alarming Juice, Toast, and Coffee