A new show where Wallace and Gromit are the presenters, could it be true! Reports say "Yes!"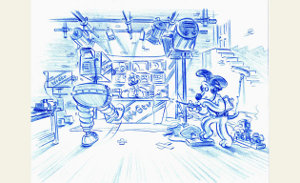 Wallace & Gromit present: A World of Invention, will take a light-hearted and humorous look at real-life contraptions, gadgets and inventions and aims to inspire a whole new generation of innovative minds by showing them real, but mind-boggling, machines and inventions from around the world that have influenced Wallace's 'illustrious' inventing career.

The show will be broadcast from Wallace's basement, where he has created what he considers to be a 'state of the art' TV studio. Each episode will have its own 'theme', including Flying, Communication, Water and Space, and will made up of live action segments about real life inventors and inventions, with animated Gromit working on World of Invention links by Wallace and Gromit themselves.

The series is expected to broadcast in late 2010
We reported a while back that a Wallace and Gromit statue – but we haven't heard much in months! Turns out that they are moving forward with plans in Preston: Sir Tom sculptor in talks over Wallace and Gromit statue.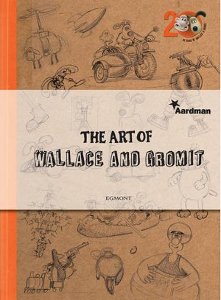 Aardman has also released an exciting new book (also reported here with more photos!): The Art of Wallace and Gromit. I am very excited about this book and will be picking up a copy soon. If you're in the UK you can snag a copy from amazon here. In the US Amazon has it available from several resellers, just follow this link. Tied to this book release is a a brand new exhibition in London's The Illustration Cupboard Gallery featuring the duo, opened on September 29th the exhibit is open through October 24th, more information can be found on the exhibit page of the Illustration Cupboard Gallery website: Nick Park and Twenty Years of Wallace and Gromit.
Next up in the news – Aardman is producing a series of shorts to be released on the Nintendo DSi:
Nintendo today announced a partnership with Oscar-winning Aardman studios to create 12 animated shorts in the weeks leading up to Christmas.

Aardman, a studio noted for their extreme diligence and craftmanship working on characters from the Wallace and Gromit series, will use the FlipNote Studio alone to craft their work.

The FlipNote Studio is a free-to-download DSiWare application that allows for flipbook style animation and sound to be brought to life all with the simple use of your handy stylus. Anyone who doesn't already have the tool is missing out! It's free, go download it!
Hmmm, maybe it's time for me to trade in my regular DS for a DSi!
Very exciting news for us fans in the United States – late last month A Matter of Loaf and Death is now Out on DVD in the US!, being sold as a DVD itself or as part of the new Wallace and Gromit: The Complete Collection. I received a promotional copy of this Complete Collection in BluRay, unfortunately I don't own a BluRay player! So I went ahead and picked up the DVD collection as well to have a peek: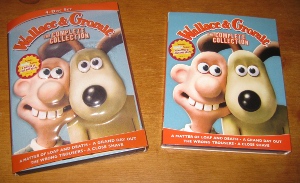 I'll be writing up a review compared to the last collection within the next few weeks. Have you purchased your copies yet? If not, a couple clips to whet your appetite:
Lastly, a reminder that the Wallace & Gromit's Children's Foundation Tea Party is being held November 4th to 14th, if you're in the UK check out the website for more information.