A couple weeks ago Npower released the latest in their Wallace and Gromit energy saving tv ad campaign. This time? Insulation and sheep!
Just like last time they have also released making of npower Wallace and Gromit loft insulation TV ad.
In the awards area, A Matter of Loaf and Death picked up another award. It was over at the 35th Seattle International Film Festival where the snagged the Best Short Film Golden Space Needle Award. Check out their page for the film here: Wallace and Gromit: A Matter of Loaf and Death | 2009 Seattle International Film Festival | Nick Park | United Kingdom
The film is also one of the five finalists for this year's Cartoon d'Or prize!
The 2009 Award Ceremony will take place during the Cartoon Forum in Stavanger (Norway) on Thursday 24th September 2009. The name of the winner will be announced after the screening of the five nominated short films.

The 5 finalists were selected by the jury composed of directors Serge Elissalde (France), Tomm Moore (Ireland) and Kari Juusonen (Finland), among 29 short films that were singled out at one of our partner festivals.
And finally, Animation Magazine reports that AMoLaD is one of the selected films to be screened at the Oct. 14-18th Ottawa International Animation Festival. They are one of the finalists for the Independent Short Films Competition Narrative Short category.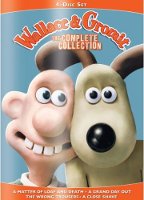 In the last post I mentioned that the 4 shorts will be released in the US on Blu-Ray in September. DVD Times has also confirmed that there will be a region 1 4-DVD setrelease as well: Wallace & Gromit: The Complete Collection (R1/US BD) in September. Plus, they report: "In addition, the DVD set includes packaging that features the duo in 3-D molded forms."The Cracking Contraptions shorts are also included in this release, split up between 3 of the discs. A Matter of Loaf and Death will also be available on DVD separately.
I also mentioned that the last of the Wallace and Gromit's Grand Adventures games by Telltale had been released. Well, they've also released several mp3s of the music from the games! So head on over to their blog to listen and download: http://www.telltalegames.com/community/blogs/id-483. Enjoy!
Robert Harrop has created a new series of Wallace and Gromit Collectable figurines for AMoLaD and Aardman is celebrating by hosting a giveaway for the collection! Additionally, 10 Fluffles figurines are available to give away as runner up prizes. Hop on over to WallaceAndGromit.com to enter! http://www.wallaceandgromit.com/competition_harrop
Finally, are you a fan of Wallace and Gromit on Facebook yet? I am! Join me and now over 100,000 others: http://www.facebook.com/wallaceandgromit