It's been too long! Over the next few days I'll be catching up on the news from the past couple months with a few posts covering the still interesting and relevant portions.
First up, I received an email from Jennifer Danese letting me know about a new, free game over on Candystand.com. Developed by Aardman Animation Online, Wallace & Gromit: Invention Suspension has the tagline "Help Wallace & Gromit build their contraption!" Head on over and check it out!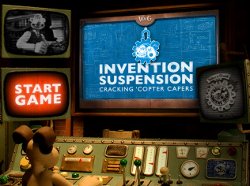 Interested in other games? As previously reported Telltale Games was releasing a series of Wallace and Gromit Games for Windows and Xbox Live. All of the games have now been released, and for $34.95 they can all be yours – plus a special collectors disc (shipping not included)! As a side note, LucasArts and Telltale are also resurrecting the Monkey Island series, which I played from the beginning, and bought the latest one that was released for the PS2 several years ago. Wallace and Gromit PLUS Monkey Island? Almost enough for me to load up a Windows computer again 🙂
Next up is information about an exhibit that opened in June, but is running through October: Animated Adventures Exhibition featuring Wallace and Gromit, Sensation, Dundee Science Centre. From their release:
This summer, visitors will get an amazing behind-the-scenes insight into the science and magic of animation with the fabulous exhibition, Animated Adventures featuring Wallace and Gromit, beginning on 1st June and running until 11th October.

The exhibition contains seven original sets used in the making of Aardman and DreamWorks' feature film Wallace & Gromit: The Curse of the Were-Rabbit. Visitors can take a sneak peek inside Lady Tottington's luxurious home, see Wallace and Gromit's bunny-laden basement and get a closer look at Wallace's Anti Pesto van. They can even see how the furry buck-toothed Were-rabbit was constructed in a stage-by-stage display!

Taking visitors on an interactive journey through all things animated, Animated Adventures captures the full animation process from storyboards to post production. Find out how the world's top animators create their on-screen characters and discover the art of cel painting, stop frame, CGI technology and plasticine modelling. Many industry secrets are revealed through a fun and engaging mix of hands-on exhibits, mini documentaries, sets, models and graphic pods that guarantee to get everyone animated!

Visitors to this fun-filled exhibition will also get the chance to try producing their very own animation.
For more information hop on over to their website: Sensation.org.uk: Animated Adventures featuring Wallace & Gromit.
It's a shame I missed this news, but better late than never! "A Matter of Loaf and Death" was finally premiered in the US on AT&T's U-verse TV on June 5. It's great to know it finally was released on this side of the pond, even if the release was limited to these customers. AT&T even had some nice things to say about Wallace and Gromit!:
"Wallace and Gromit are followed by fans worldwide, and we're very proud to be the first U.S. distributor to offer this new family-friendly film to our customers" said Jeff Weber, president of video services, AT&T Mobility and Consumer Markets. "This is the perfect example of how our three-screen capabilities provide value to our millions of TV, wireless and broadband customers, and also give AT&T an exclusive opportunity to work with leaders in the entertainment industry to deliver their compelling content to audiences across devices."
For more check out the press release: New Wallace and Gromit Short Film Makes Exclusive U.S. Premiere on AT&T U-verse TV
Want to bring a physical copy of A Matter of Loaf and Death home in the US? If you have a Blu-Ray player – you're in luck! The Region A release of Wallace & Gromit: The Complete Collection including all 4 shorts, is schedule for September 22nd. You can also check out the article here for further details on the release: Wallace and Gromit Shorts Coming to Blu-ray
Back on June 26th the Wallace and Gromit Foundation hosted another successful Wrong Trousers Day! Click here so see a picture of their promotional poster, and hop on over to The Weston Mercury's article Whoops – it's the Wrong Trousers! for a report and some photos of just a few of the people who participated this year!
That's all I've got time for now, stay tuned for another update very soon!