Wallace & Gromit's World of Cracking Ideas Exhibition (CrackingIdeas.com Exhibition page) opened on March 28, 2009 and is open through November 1st. I was fortunate enough to be in England for this opening and my boyfriend bought us tickets to go to the exhibit on the first day!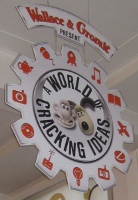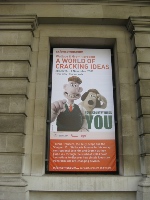 The exhibit was fantastic, my photos hardly do it justice! If you're able, I encourage you to check it out yourself. Before talking about my own photos, there are a couple great video clips and articles out there discussing the exhibit.
BBC: Cracking idea Gromit! – Video that takes us through the exhibit with Nick Park!
Telegraph: Wallace and Gromit star in exhibition to inspire young inventors A shorter video tour of the exhibit, which includes a clip with Nick Park
The Independent: Nick Park: 'I'm like Wallace – a tinkerer'
The Independent: Wallace & Gromit: A World of Cracking Ideas
I was very excited to be able to attend the exhibit, we took the tube through the city and while walking through the subway to the exhibit I was delighted to see signs advertising it!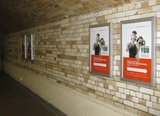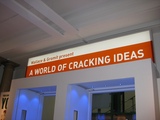 I took a bunch more photos of the signs prior to and around the entrance of the exhibit which you can check out here.
The exhibit also had some of the sets from the films, including one from Cracking Contraptions, Curse of the Were-Rabbit and A Matter of Loaf and Death! A real treat for me, since I'd never seen any of the sets in person before. If you haven't seen any of the sets the exhibit is worth it just for that.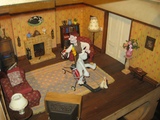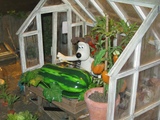 I probably took more pictures of the sets than anything else, some more of my pictures can be found here.
The amount of workmanship that went into this exhibit was impressive. The entrance to the exhibit was the front of Wallace and Gromit's West Wallaby Street home, with the hallway into the exhibit a hallway into their house. Within the exhibit they had a Tellyscope II, the second incantation of the Cracking Contraptions version, a mock-up of their kitchen, a control panel similar to that from Shopper 13, an impressive interactive invention machine and lots more!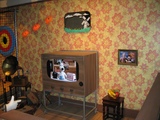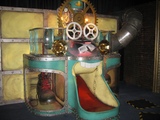 I put some more exhibit photos here
My pictures hardly do it justice at times I forgot to take pictures because I was so excited and there was so much to see. I highly recommend getting out to the exhibit to check it out yourself so you can see all that is there!