This week by a representative from the BBC who let me know that they had launched their "coming up" page for Wallace and Gromit's World Of Invention series! It's pretty sparse at the moment, but you can check it out here:
http://www.bbc.co.uk/bbcone/wallaceandgromit/
I'm pretty excited to see what ends up there! The buzz around this new series has been picking up, just today there was an article over at expatica.com: Channels snap up Wallace and Gromit TV series:
The BBC-commissioned show has already been sold to 12 territories worldwide and was attracting big interest at the MIPCOM audiovisual entertainment show that runs to Thursday in the French resort of Cannes.

"There's been a lot of interest and we've got lots of pre-sales," Aardman Rights executive Lucy Wendover told AFP.

The show premieres in Britain next week and has been bought by channels including France Television, Germany's Super RTL, Australia's ABC, Sweden's SVT, Finland's YLE, Thailand's PBS and Viva Entertainment in the Middle East.
Now, I may live on the wrong continent but I was also contacted this week by Bradley Sturch of Animate & Create who let me know about an upcoming Canterbury Anifest on October 9th:
The festival will run from 11am – 8pm and will feature a host of special guests including Aardman Animations and the models of Wallace & Gromit, Small Films and the children of Oliver Postgate and Peter Firman talking about Bagpuss and The Clangers. There will be a special screening of the CGI hit The Gruffalo as well as screenings of animations created by budding film makers from around Britain.

To round off the day there will be a comedy show starring Phill Jupitus and Emma Kennedy, who will be chatting about their favourite Looney Tune cartoons.

It promises to be a fantastic day out for families and animation fans alike, with day tickets only £25 per person for all the days activities or £20 concession (over 65s and students with a valid student card)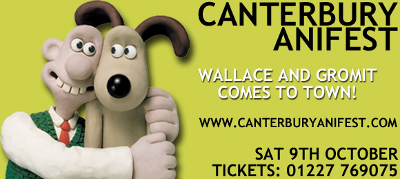 If anyone attends and gets photos of the Wallace and Gromit models, I'd be happy to post your favorites and give you credit, so please let me know by sending an email to elizabeth@wallaceandgromit.net