This week I received an email from Melanie Seasons of onlinefire.co.uk letting me know that Wallace and Gromit were being featured on this years Royal Mail Chirstmas stamps!
2nd Class – Wallace and Gromit carol singing
Suitably wrapped up against the cold Wallace and Gromit go carol singing
1st Class – Gromit posting Christmas cards
A robin watches Gromit as he posts the duo's cards.
2nd Class Large – Wallace and Gromit carol Singing
The wider format of the Large stamp shows a lit up Christmas tree in the background.
1st Class Large – Gromit posting Christmas cards
The wider format of the Large stamp reveals the wicked penguin Feathers McGraw about to launch a snowball from behind the pillar box.
60p – Wallace dressing the Christmas tree
Wallace places a Christmas fairy that looks suspiciously like Feathers McGraw on top of the Christmas tree.
97p – Gromit with Christmas pudding
Gromit arrives with a magnificent Christmas pudding.
£1.45 – Gromit's Christmas pullover
Wallace gives a thumbs-up as Gromit tries on his seasonal gift of a bone-themed pullover.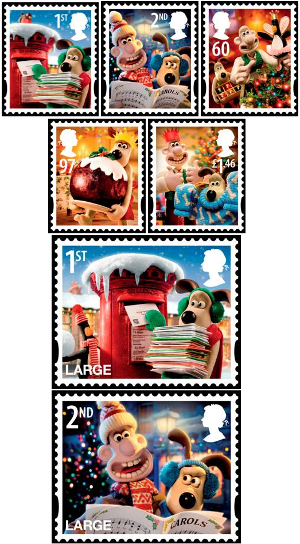 (click image to enlarge)
The press release:
They are multi Academy Award winners and global screen stars, and now Wallace and Gromit will make a special appearance in millions of homes worldwide after signing-up to feature on Royal Mail's Christmas stamps, unveiled today.

Available from 2nd November, the stamps feature the nation's favourite animated characters going about their Christmas duties with the 1st Class stamp showing the two posting their Christmas cards.

Wallace and Gromit go carol singing on the 2nd Class stamp and dress the Christmas tree on the 60p stamp. As usual, Gromit is left to do the majority of the work, carrying the cards and hauling an unfeasibly large Christmas pudding around on the 97p stamp with his reward being a bone-themed jumper shown on the £1.46 stamp.

Like the duo's award-winning films, the stamps are packed with detail, but with the added challenge of reducing the 'World of Wallace and Gromit' down to stamp size.

To achieve this Royal Mail's design team worked closely with Nick Park and Aardman Animations to devise brand new scenes featuring the pair.

The approach to the stamps was similar to how Aardman Animations create a film, with Nick Park drawing scenes and visual jokes involving the characters, before refining the designs so that they would work in a definitive stamp format. Each stamp was then constructed with models, props and background sets – all created especially for the issue.

Nick Park, creator of Wallace and Gromit, said; "It's been such a wonderful honour and a pleasure to work with Royal Mail and to have my characters, Wallace and Gromit, immortalised on their very own stamps.

"It was one of the biggest challenges my talented team and I have faced yet – to create memorable Christmas images of the duo – the size of postage stamps. But we knew we'd lick it in the end."

Philip Parker, Royal Mail Stamps spokesperson, said; "The process of developing these stamps has been a labour of love for all concerned – but I think it has resulted in one of the finest sets of Christmas stamps Royal Mail has ever produced.

"Nick and his team's attention to detail is legendary, but their efforts to bring Christmas with Wallace and Gromit to life on stamps is truly extraordinary. Keen-eyed collectors armed with a magnifying glass will see that the envelope seen being posted on the 1st Class stamp features the actual 1st Class stamp."
There is even a video about it where Nick Park himself discusses the stamps, check it out here:
How exciting! I can't wait to get a set of my own.