Wallace and Gromit have seen their share of awards this year due to hitting the award cycle late with the Christmas day release of A Matter of Loaf and Death in 2008. First, they were nominated for a Oscar which they unfortunately didn't get, in what Los Angeles Times blogger Steven Zeitchik called possibly the biggest upset of the show: Oscar liveblog: One of the night's biggest upsets?
But on to more winning news, Christopher Dalby gave me the heads up that Aardman did quite well at the British Animation Awards back in April. The duo walked home with the "Children's Choice" award for A Matter of Loaf and Death, and their spinoff Shaun the Sheep won for "Best Children's Series"! More details over on the BBC website: Aardman wins at British Animation Awards. This award adds to the 36th annual Annie Award for "Best Animated Short Subject" they won in 2009.
Awards aside, Wallace and Gromit have been doing quite well elsewhere too. There is a new Spaceport Exhibit: Wallace & Gromit in Space with activities.
HarperCollins Publishers recently announced that they were to become the official publisher for the forthcoming Wallace and Gromit six-part TV series due to air this autumn on BBC One, with a hardback collection of inventions entitled Wallace and Gromit: A World of Invention. (as reported by booktrade.info: Harpercollins' Smashing Deal Secures Wallace And Gromit Tie-In)
But wait, a six-part TV series, you say? Yes, announced last summer it's due to be released this fall! A wikipedia entry has even sprung up about the upcoming series: Wallace and Gromit's World of Inventions.
And in case you've missed them, Aardman is now doing a series of Podcasts, you can grab the first six here: http://www.aardman.com/about-us/podcasts/podcast/
Up for playing a fun new web-based game? I had some fun with Sprocket Rocket over on the Cracking Ideas website the other day: http://www.crackingideas.com/exhibition/games/
Wallace and Gromit on American television? It's true! The duo will be guest appearing on The Simpsons some time during the next season! A Los Angeles Times article talks about it here: COMIC-CON: 'The Simpsons' get 'Glee'-ful for upcoming season.
And finally a bit of fun, The Daily Mail reports Sand-tastic! Shakespeare and Wallace and Gromit hit the beach in Somerset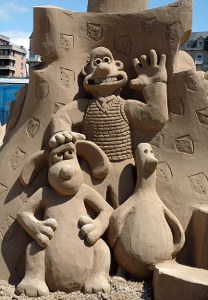 Credit: The Daily Mail, caption "No need to feel sheepish" – Wallace and Gromit join other tributes to Great Britain
Wallace and Gromit made of sand, outstanding!