On November 3rd the first episode Wallace and Gromit's new World of Invention series began on BBC One, and viewers were treated to a second episode on Wednesday the 10th. Here's hoping they release it on DVD in the States pretty quick so us US-bound fans can see it! For now I'll have to suffice with some preview articles and reviews.
Preview: Wallace and Gromit's World of Invention comes to BBC One
Review: Wallace & Gromit's World Of Invention – Nature Knows Best
Also quite a treat to read was a preview interview with Wallace himself by whatsontv.co.uk: Wallace: 'I fancy being a celebrity chef'
But the other big news of the week is the release of the brand new Cracking Contraptions Manual!
Guardian.co.uk: Wallace & Gromit's Cracking Contraptions Manual goes on sale
WallaceAndGromit.com Forum: Cracking Contraptions Manual is out now!:
How do the Techno Trousers work? What's inside the Rocket? How did Wallace rebuild Preston the Cyber Dog?

Find out the answers to these questions and more in Haynes Wallace & Gromit's Cracking Contraptions Manual, as the lid is lifted on the wonderful contraptions of everyone's favourite inventor.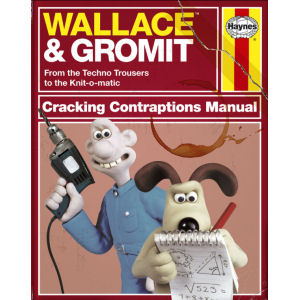 Order your copy now at the Aardstore! WALLACE & GROMIT Cracking Contraptions Manual