First up, I received an email from Andy Grey of Post Office Ltd who let me know of this great little countdown widget for getting your Royal Mail Christmas mailings out on time:
He also let me know of some really great stamp wallpapers, I'm now using one on my desktop!
http://treatbox.net/wallace-gromit-wallpapers/
Next up, if you're in the UK you can now find the Totally… Wallace and Gromit's World of Invention magazine on newstands. For those of us outside the UK and using Windows, Mac or iPad you can buy a digital copy for just 2 pounds.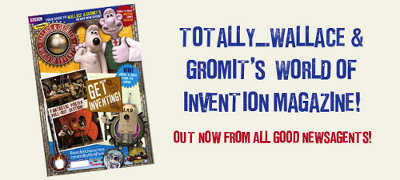 And finally, the last Wallace and Gromit's World of Invention episode of the season is airing this week. If you're outside the UK and unable to view these gems, there are some short clips on the Aardman YouTube page, which features a whole playlist for World of Invention: http://www.youtube.com/user/aardman#g/c/D2AF82165A5DEAA5. You can also read the summaries which some diligent folks have posted on the Wikipedia Wallace and Gromit's World of Invention page.