For the second time this year (and the second holiday cover) Wallace and Gromit will be appearing on the December 18-31.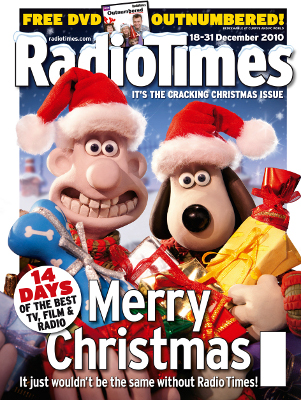 Click image for high-res 3.3M version of the cover
More information via Amy Brill of the BBC:
Radio Times runs aptly snowy Wallace & Gromit cover for its Christmas issue

Radio Times has shot its own exclusive picture of Nick Park's creations for its cracking bumper Christmas issue, featuring the duo bearing gifts, crackers and sporting Santa hats. The magazine is in the shops now until 27 December, with listings covering 18-31 December) and is the most eagerly anticipated publishing event of the year – internet forums speculate about what will be on Radio Times' Christmas cover and the on-sale date as early as August.

Oscar-winning creator Nick Park said: "I still have to pinch myself when I see my characters, that I thought up at college, appearing on TV or in magazines. But to be on the front cover of an institution like the Radio Times – and the Christmas issue – that is an honour indeed, but then W&G are top models. I started planning it months ago, working with my trusted team, to give the cover all the charm and quality of the films. It's strange working on a Christmas themed photo shoot – when your 'top models' are melting in the summer heat. But we worked with dogged devotion to bring you something 'yule' love."

This year's bumper issue offers a free DVD of the excruciatingly funny Outnumbered Christmas Special, free to collect from Currys or PC World, as well as two weeks worth of in-depth listings for the festive period.