In the latest Wallace and Gromit's Cracking Newsletter we learned that the Region 2 DVD release of Wallace and Gromit's World of Invention is now available in the aardstore!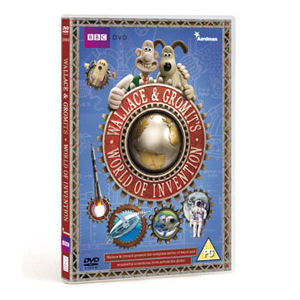 No word yet on other region releases, so it looks like those of us in the US will still have to wait.
Other big news this week is the possibility of a Wallace and Gromit amusement park ride at Blackpool Pleasure Beach along the Fylde coast in Blackpool, England.
Filmmaker Nick Park says he is in talks on the possible development of a theme park ride based around his cheese-loving Wallace and Gromit characters.

The Preston-born animator told Kirsty Young about the plan on Saturday's edition of the Radio 4 programme Desert Island Discs.

"We are in the middle of discussions with Blackpool Pleasure Beach about a Wallace and Gromit ride," Park said.
Reference: Nick Park plans Wallace and Gromit theme park ride (AFP)
For more about that the Desert Island Disks episode you can read about it here:
Guardian.co.uk: Nick Park on Desert Island Discs: Cracking tunes, Gromit!
Or listen to it now on the BBC site!