It's been a few months since our last roundup update! Here's a roundup of some of the news that came in since then.
It will probably not be a surprise to long time fans, but at an interview back in July Nick Park talks about the origins of the characters: Gromit was 'nearly a cat' says animator Nick Park
Last time we talked about the upcoming performance at the BBC Proms, and with those long behind us there were some great articles that came out covering it, including…
The Telegraph did an amusing interview with Wallace: Proms 2012: Wallace and Gromit: interview. And not to be outdone, The Guardian also featured an interview with Wallace: Wallace: 'I have a feeling Gromit has a hankering to be a composer himself'.
As for the event itself, this article from the BBC covers it and has a great photo from the event: Wallace and Gromit take over Prom
Wallace and Gromit brought some animated anarchy to the BBC Proms on Sunday with a family-themed concert featuring new sequences created by Bristol-based film studio Aardman.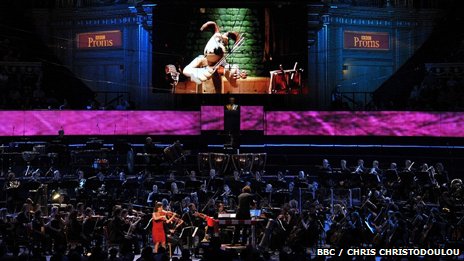 So, what was the music actually like? Julia Savage of Bachtrack writes a great description and review here: Prom 20: Wallace & Gromit's Musical Marvels!
With the proms behind them, where did the duo surface next? One event was the Preston Guild celebrations as reported here: Wallace and Gromit creator honoured at the Preston Guild celebrations. They also showed up at Wensleydale Creamery following a cycling event for charity as reported here: A grand day out at creamery. And while on the topic of charity, it's been announced that Wallace and Gromit's Grand Appeal to be official partner for this year's Bristol 10k.
Finally, a couple pieces of news that I'm pretty excited about. First is news brought to my attention by Emily Koch Gromit sculptures to be unleashed on Bristol. I'll probably not be able to see it in person, but Gromit sculpture all over Bristol, how cool!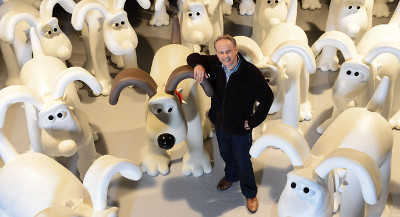 And the other big news, a Wallace and Gromit amusement park ride is coming to UK's Blackpool Pleasure Beach in 2013!
Set to open in 2013, the $7.8 million Wallace & Gromit Thrill-O-Matic dark ride at the United Kingdom's Blackpool Pleasure Beach will whisk visitors through the world of the eccentric cheese-eating inventor and his anthropomorphic dog.

The 4-minute ride will feature a dozen scenes inspired by the animated short films starring the beloved British claymation characters, including "A Grand Day Out," "The Wrong Trousers," "A Close Shave" and "A Matter of Loaf and Death."
Quote from the Los Angeles Times article Wallace & Gromit ride heading to UK's Blackpool Pleasure Beach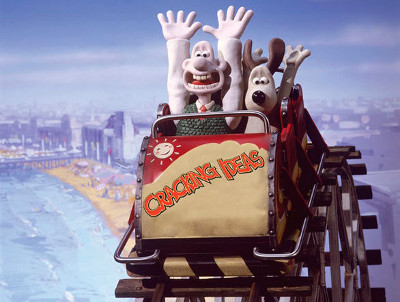 Artist's rendering of the ride: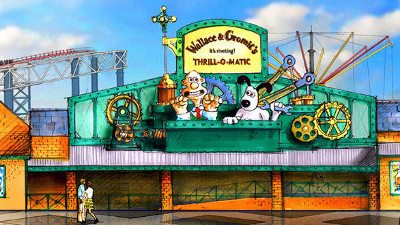 How exciting! Now this may be worth a trip over the pond for… 🙂