This website is a Wallace and Gromit fan site devoted to news. However, on a more personal note, during the pandemic I've taken up collecting. I've always had a meager Wallace and Gromit collection, but with all vacations and other travel put on hold, and being largely at home, in 2021 I started perusing eBay for some of the collectibles that I'd seen over the years, but never had the opportunity to buy. I haven't actually bought much, but one thing I jumped on was starting to pick up the Vivid Imaginations polyresin figures. I was delighted when I finally got my hands on the last piece!
The only site site I could find with any information about them was here: Toonhound: Cracking Collectibles: Vivid Imaginations Polyresin Figures, which is where I confirmed that I had indeed gotten them all. In general, I've found their Wallace and Gromit page on collectibles to be quite nice, and I browse it from time to time when I'm looking for ideas about what I'd like to hunt down next. The Wesco clocks continue to be high on the temptation list, and they're frequent fliers over on eBay.
I will say that one of the challenges of being a collector in the United States is that most of these things simply never made it here. A lot of the "freebie" things that many UK collectors were never available. If I ever want any of the product tie-ins I have to order from overseas, and end up spending a hefty chunk on shipping from the UK. For private sales like those you find on Facebook groups, a lot of folks simply don't want to go to the trouble of shipping outside of the country.
Thankfully, I was able to complete the Vivid Imaginations collection by sticking to the US. And I was really struck by the kindness of folks I did transactions with. I hadn't used eBay in many years, and there are a lot of folks who now use it as a business, rather than casual sellers dealing in their own collections. There's definitely a lot of business to be had in Wallace and Gromit collectibles, but I have largely interacted with really kind people who would leave nice notes and such in the boxes I received. So it was a more personal and heartwarming experience than I expected. These figures were loved in their last life, and will be loved in their new one, too.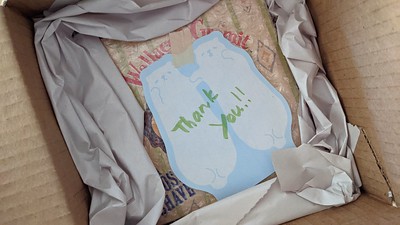 To celebrate, I've created a new Collectibles page! This will be very personal to me, since I don't have the inclination to do anything more comprehensive than what I've been able to focus on. My hope is that I can provide the close-ups and whatever information I can find about the things that I have in my collection, at least, and that may be of interest to some folks.
And so I leave you with a quick look at what was the most difficult one to find: the train chase scene from The Wrong Trousers (more photos here).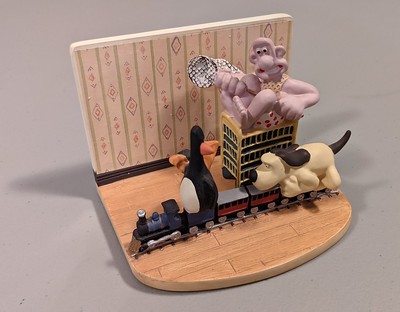 Enjoy, and happy collecting!