A reminder, Aardman has combined blog and forum for their Film Production Blog, so be sure to skip over there, sign up, get involved and read the latest news about A Matter of Loaf and Death.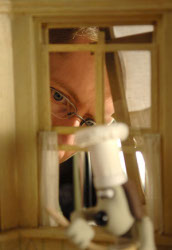 There is now an exhibit called Animated Adventures – Leicester New Walk Museum 7th June -12th October.
 "Animated Adventures, a travelling exhibition featuring original sets and models from the hugely-successful Wallace and Gromit films, is opening at the New Walk Museum and Art Gallery in Leicester this Saturday.

…

For more information on directions and opening times, visit: http://www.leicester.gov.uk/your-council–services/lc/leicester-city-museums/museums/nwm–art-gallery"
Speaking of Art, there is not another floral sculpture of the duo, this time of their motorbike and sidecar!
The very successful Wrong Trousers day has gathered a lot of support, most recently from Desmond Tutu!
 "Famous cartoon characters Wallace and Gromit posed with Nobel Peace Prize-winning Archbishop Desmond Tutu recently to promote a fund-raising even in aid of their children's foundation."
And an one article of many about events that happened on Wrong Trousers day, this one was from a supermarket in Beckenham: News Shopper: Checking out wrong trousers
..and did they reach their goal of 100 million pounds? Sure did – plus more! Trousers pocket £217 for hospices