Have an iPad/iPhone and longing for some Shaun? A few weeks ago Brad Cook of Virtual Programming tipped me off that they had released an iOS version of the popular (addictive!) flash game Home Sheep Home!
Check out their press release here:
Home Sheep Home, Based on the Popular Shaun the Sheep Characters from Aardman, Arrives at the iOS App Store.
App store link here, you can grab it for just $0.99.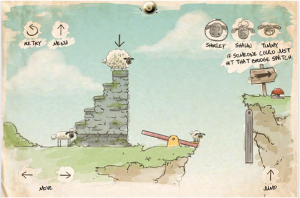 No word yet on an Android version.
Looking for some Wallace and Gromit goodies? Andrew May reminded me that Marks and Spencer frequently has Wallace and Gromit goodies for purchase in store and on their website (and they ship to the US!). Thanks Andrew.
Finally the Wallace and Gromit Foundation's annual Wrong Trousers Day is coming up on June 24th! Check out this cute video they created for it this year:
"Cracking cause, lad! Let's do our bit."
Read more, find out how to donate and sign up for a fundraising pack for your organization at wallaceandgromitfoundation.org/wrong-trousers-day