First off, the news I'm most excited about, the United States release of Wallace and Gromit: World of Invention on DVD and Blu-ray on March 13th! You can snag a copy for yourself on Amazon, Animation Magazine was one of the several outlets that covered the release.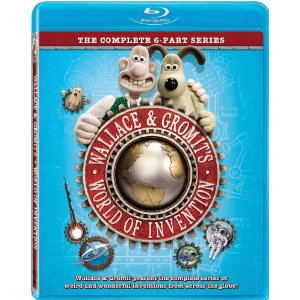 From the Wallace and Gromit Foundation there are a couple bits of news. First, the release of their Impact Report for 2011. The report, available for download as a PDF, covers their extensive work with hospitals and hospices for children, fundraising highlights, partnerships and more.
They've also announced thier new Big Breakfast event on 20th -27th April.
We are very excited to let you know that in April 2012 we will be launching a Brand New Fundraising event- Wallace & Gromit's BIG Breakfast 20th -27th April. It is easy to take part simply register today and we will send you a free BIG Breakfast fundraising pack with all you need to take part, then simply invite friends, family, work colleagues or school friends to Breakfast.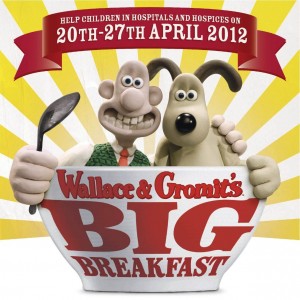 In more general news, we have several articles to share:
From the Daily Mail: EXCLUSIVE: Wallace and Gromit creator Nick Park reveals his first ever animated film – shot aged 13 and featuring characters made from his mother's sewing kit, not only that, but the article also features some excellently detailed drawings of the workings inside some well known Wallace and Gromit machines!
From Capital New York: Wallace and Gromit: Engaging, noble, and content not to conquer the world
From the Los Angeles Times blog: Shorts Awards honors Oscar nominees, 'Wallace & Gromit' creator
Duchess of Cornwall: Wallace and Gromit are Prince Charles's 'favourite people in the world'
And slightly off-topic for Wallace and Gromit, the latest Aardman feature "The Pirates! Band of Misfits" as it's know internationally or "The Pirates! In an Adventure with Scientists" as it's known in the UK, is being released March 28, 2012 in the United Kingdom and April 27, 2012 in the United States. I've been excited about this film for a while, the late release date here in the states will be rough!
Finally, in the "cool Wallace and Gromit products" department we have…
Wallace & Gromit's Biscuit Assortment TV Tin
The View-O-Matic TV set model HP400.
An assortment of bicuits containing Jam Rings, Milk Chocolate Digestives, Nice, Oaties, Bourbon Cream Fingers, Custard Creams Finger, Digestive Finger and Fruit Shortie.
They also offer a tin shaped like their van in A Matter of Loaf or Death.
And the Wallace and Gromit Sandwich Toaster (via geekalerts.com)
Cook up a cracking toasted sandwich with the classic Wallace & Gromit Sandwich Toaster from Swan.

In just a few minutes you could be enjoy a toasted sandwich filled with your favourite fillings. What's more is the unit will stamp creative images onto both sides of the bread to make your sandwich a whole lot more enjoyable. Featuring non-stick trays you can easily remove your food and clean after use.
Very fun!