There are frequently Wallace and Gromit exhibits throughout England (like World of Cracking Ideas that I was able to visit while visiting England in 2009!) but it's not every day that we see exhibits open elsewhere in the world. It's a delight to be able to report thatWallace & Gromit's World of Invention at Scienceworks, Melbourne will be opening on May 19th 2012. Based on the exhibit description it sounds like there will be a lot of overlap with the Cracking Ideas exhibit, but also some new things from the recent World of Invention series. Also see: article by Sydney Morning Herald.
Still no reports of Wallace and Gromit for Android, but in December Widebeam Digital Ltd. released the Wallace And Gromit – Chat-O-Matic, "an app that turns an iPhone, iPod touch or iPad into Wallace's mouth, complete with a selection of catchphrases. The idea is that the device is placed in front of the user's real mouth" as reported by The Guardian.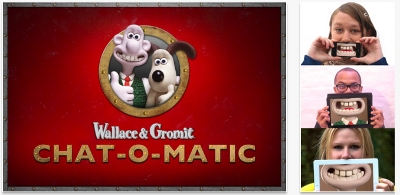 Also in iOS app news, Brad Cook of Virtual Programming contacted us about their "Home Sheep Home" application mentioned here. They have now published the The Ultimate Home Sheep Home Walkthrough, and Brad reports:
We added 5 new levels to the game in a recent free update, and this walkthrough includes them, so it's a complete tutorial to the entire game.
App store link here, you can grab it for just $0.99.
Finally, some exciting news for disadvantaged young people helped through Prince's Trust, two watercolour illustrations from Wallace and Gromit creator Nick Park were among the 35 artists featured in a recent auction at the Prince's Trust Evening of Art and helped raise £74,000! Article here: Artists raise £74,000 for youth charity.