As mentioned in the last update, the US DVD and Blu-ray release of Wallace & Gromit's World of Invention was on March 13th, io9 has a great review of it: Let Wallace and Gromit teach your kids about science. Animated Views also reviews the show and the Blu-ray itself, discussing extras, packaging and more: Wallace & Gromit's World Of Invention. As a love of science shows in general, I was delighted to receive my own copy!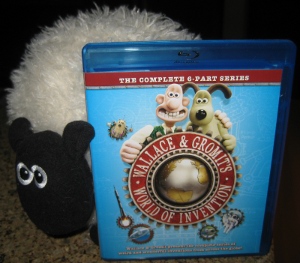 Back in April it was announced that Wallace and Gromit would join music greats with an appearance on the BBC Proms 2012 on July 29th.
"Concerto in Ee, Lad will be unveiled at a children's Prom on July 29 and is, according to a tongue-in-cheek explanation by Proms organisers, a composition by Wallace himself.

…

The Aurora Orchestra will perform the concerto while Prom-goers are treated to a new Wallace and Gromit film devised especially for the occasion by Nick Park of Aardman Animations.
From: BBC Proms 2012: Wallace and Gromit compose their own concerto for Royal Albert Hall
The BBC covers it: Wallace and Gromit to feature at BBC Proms and the event page featuring Wallace and Gromit is also now online: Prom 20: The Wallace & Gromit Prom: Musical Marvels!
In my last update I also mentioned the Big Breakfast event on 20th -27th April, and the site has been updated to thank participants:
Thank you to everyone who took part in Wallace & Gromit's first BIG Breakfast with our friends Foresters. We are very excited to let you know that over 100,000 people nation wide took part .

All the money you raised will help improve the quality of life of sick children and their families in local hospitals and hospices across the country. Thank you.
A few articles also covered some of the breakfast events across the country:
And in more Wallace and Gromit philanthropy news, this article from May about the success of The Grand Appeal: £250K appeal launched for children in Bristol fighting cancer. Finally, the Wallace and Gromit's Children's Foundation is hosting their annual Wrong Trousers Day this upcoming Friday, June 29th!
In May Museum Victoria Scienceworks in in Melbourne, Australia opened the Wallace & Gromit's World of Invention exhibit, making Australia the first country outside of the United Kingdom to host the exhibition.
Wallace & Gromit's World of Invention explores how innovation and inventiveness are a part of everyday life through a series of interactive exhibits modelled on the devices built by much loved TV character Wallace; a resourceful and creative inventor helped by his clever companion, Gromit the dog.
The museum itself covers the opening on May 17th in a media release, Wallace and Gromit set up shop. Karl Quinn of The Age also writes about the exhibition Just claying around: animation stars roll into Scienceworks and Jim Schembri of the Herald Sun covers it in his article, Inspiring feat of clay at Scienceworks.
There was a lot of excitement leading up to the next bit of news – a new 1 minute, 14 second Wallace and Gromit tidbit – released for the Queen's Diamond Jubilee (which apparently is a big deal in the UK, even if we don't know what it's about here in the US!). Sponsored by the National Trust they released some teaser photos, a short video and a "making of" video before the Jubilee, covered in the following articles:
And can be viewed on the National Trust website: Wallace & Gromit: A cracking weekend, which also includes more details, activities, games and even a shop!
Wallace & Gromit in National Trust's A Jubilee Bunt-a-thon video:
Direct YouTube links:
Finally, the Cracking Idea Award Winners for 2012 have been announced! And the author of the Wallace & Gromit newspaper strip from Titan Comics and Aardman, Richy K. Chandler, has announced that he has a new non-Wallace and Gromit webcomic in the works, to be released June 27th: Lucy the Octopus.