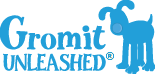 I have already written about some of the exciting things Wallace and Gromit were up to over the summer, but the biggest one of all was the Gromit Unleashed art display in Bristol, UK! For 10 weeks from the first of July Gromit statues decorated by world famous and local artists alike dotted the city of Bristol in a walking tour that attracted thousands. The exciting summer wrapped up with an auction of the statues in September that raised over £2.3 million for Wallace & Gromit's Grand Appeal charity for children and their families Bristol Children's Hospital.
Back in June I wrote about couple of ads that were released promoting it. So, first up, an article from just before the launch: Gromit Unleashed: Celebrity line-up revealed
The unveiling of the statues themselves was seen over by none other than Wallace and Gromit Creator Nick Park!
Throughout the summer several outlets continued their reporting, featuring all kinds of Gromits and their artists from the trail: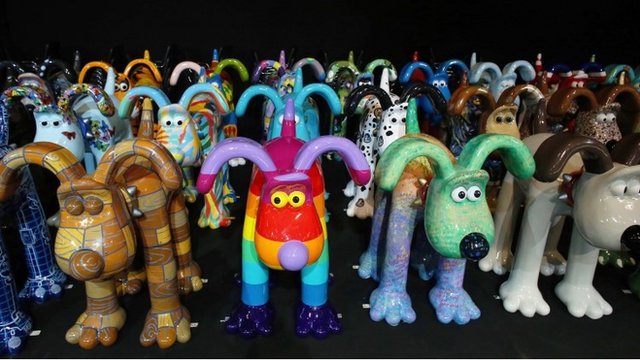 Once the trail itself ended, the Gromits were moved to a temporary location where they were housed and on display for visitors:
Throughout their display time the wait times to see the Gromits were tracked on the @GromitUnleashed twitter account and at times reached up to 3 hours!
It was perhaps no surprise then that the auction of the Gromits was so wildly successful:
As a wrap up, the Bristol Post published a fantastic 32-page booklet titledThe Great Gromit Auction on ISSUU, so you can browse the whole thing online.
Looking for more photos of the gromits? Be sure to visit the Gromit galleries on the Gromit Unleased website for more.
There are figurines being produced of many of the gromits, which will be available on the Gromit Unleashed Shop. Unfortunately they are out of stock but have promised to fulfill demand next year. You can click on the "Newsletter" link on the website to be kept up to date with current developments, including when new figures will be available. And they don't ship to the United States directly on their website, but I was able to follow the instructions to contact them and just sent in my payment for the The Art of Gromit Unleashed Book – a steep $41.46 including shipping to the US, but I'm sure it'll be worth it. Hopefully I'll be able to get one of the figures too when they're available again.