Happy New Year, Wallace and Gromit fans! For the holidays this year, I ordered a copy of The Art of Gromit Unleashed, which wasn't cheap when shipping to the US was added, but was worth it. Between the articles I've read on the Gromits and the background information about every Gromit provided in this book, I almost have stopped regretting not booking a trip over the Atlantic to Bristol to see them in person.
Plus, the fine folks at The Grand Appeal included a hand written note with my purchase.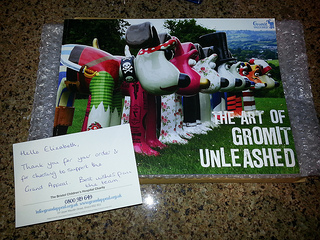 Speaking of Gromit Unleashed, the organization continues to release the figurines for sale on their site and at The Mall, Cribbs Causeway. I'm still hoping that in 2014 they'll have enough to ship internationally! Finally, one of the Gromits has found a public home: Gromit's grand new dog house decided by voters
In musical news, the duo just finished up their Musical Marvels events in London and Sydney. There are currently no upcoming shows but you can sign up for their newsletter to be notified of any updates.
I'm a big fan of Wensleydale cheese (sold at Whole Foods here in the United States) so it was great to see this news: Wensleydale cheese finally wins protected status
Have a kiddo with a LeapPad? This news should interest you! LeapFrog brings Aardman's Wallace and Gromit and Shaun the Sheep to LeapPad
This fall through December 31st, Homepride Flour sponsored Wallace & Gromit's BIG Bake which included a fundraising kit for individuals to bake goods and sell them for the Wallace and Gromit charity. The winner will be announced at 5pm on Monday 13th January 2014. Keep an eye on Wallace and Gromit's Charity Pintrerest page for more.
In the spirit of things, here is a sampling of what came out of that!