Wow, it's been a while! Lack of updates is completely on my end, with work and other responsibilities piling up on my end this year, finding time to update this site with Wallace and Gromit news has slipped through the cracks (note: if you'd like to help, please drop me a line: elizabeth@wallaceandgromit.net). The year has also been quite busy for Wallace and Gromit, so I've missed a lot! I shall now attempt to do a whirlwind tour of what the lads have been up to.
First up, exciting news today about the availability of Gromit Unleashed Monopoly. I've long resisted the branded Monopoly games, but in this case I gave in. The game costs £29.95 and shipping to the United States is expensive so I decided to also purchase a couple Gromit figurines as well (Classic and Creature Comforts). All told, shipping came out to a whopping £34.53, but I think it was worth it. It's also worthy to note, that they support International orders through their system now, so there is no longer a need to email them directly.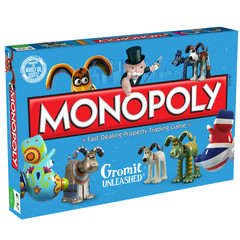 In more shopping news, I was delighted to learn earlier this year that Wallace and Gromit: The Complete Newspaper Comic Strip Collection Volume 1 was released, and doubly so that just last week (November 4th), Wallace and Gromit: The Complete Newspaper Comic Strip Collection Volume 2 came out! It's on my way to my home as we speak. Check out a great review of Volume 1 by Victoria Irwin here: The Complete Newspaper Wallace & Gromit Comic Strips Collection.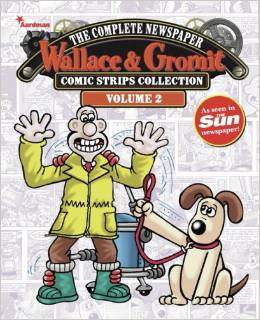 In other Gromit Unleashed news, they launched a YouTube channel back in March that continues to host a bunch of goodies:
https://www.youtube.com/user/GromitUnleashed
They also decided to have a Gromit Unleashed exhibition in Hong Kong over the summer! It kicked off on July 21st and went through August 31st, with Gromit Unleased Newsletter saying:
For the first time outside the UK, 70 Gromit Unleashed sculptures have come together to create a unique exhibition at ELEMENTS mall in Hong Kong, with each Gromit individually designed and decorated by an array of top designers, celebrities and international brands – including four designs from Aardman Animations!
The Bristol Post wrote a couple articles about it:Gromit Unleashed launches in Hong Kong with a 4 metre tall Gromit and Gromit unleashed on Hong Kong for new exhibition. Also check out a video and some photos of the exhibition over on WallaceAndGromit.com: Gromit Unleashed Hits Hong Kong! I've also embedded the video in this post.
The Bristol Post reports that the auction in Kowloon a total of £45,389 was raised.
Finally, Shaun in the City was announced! A follow-up to the Gromit trail, this time London will be welcoming statues of one of our favorite Wallace and Gromit characters who has gone on to make success in his own series, Shaun the Sheep! I've been following their Twitter account @shaun_inthecity and the preparations are well underway for the installation. News about this was shared by The Telegraph Giant Shaun the Sheep take to the streets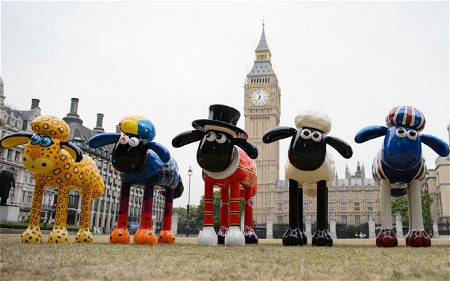 Photo: LEON NEAL/AFP/Getty Images
Over the summer, from from May 24 to September 7, Bristol was host to a Wallace and Gromit Exhibition at M Shed Museum. The exhibit featured concept sketches, models and actual sets from the films, some great photos from the exhibition were shared in this article from Bristol Culture: Wallace & Gromit exhibition at M Shed. And Tricia Orchard shared another series of photos here: Wallace and Gromit at The MShed. A post by The Guardian also gave some show highlights: Wallace and Gromit – a sneaky preview of the M Shed exhibition.
And last but not least, here's a sampling of articles talking about other news from the past several months featuring the duo:
Thanks for reading, until next time!