When the book Aardman: An Epic Journey came out, I scoured the internet for a reasonable way to get a copy in the US, but came up largely empty. Thankfully, it was published as A Grand Success! in the US three months later, and I quickly bought a copy. Then it entered the abyss of my To Read pile (which, according to GoodReads, now has 93 books in it). I yanked it out of the abyss last month and finally read it! And took the opportunity to turn reading it into a little, private film festival, featuring the shorts.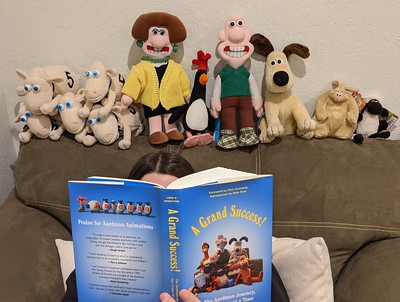 The following are ones from Aardman's YouTube account that I watched:
Conversation Pieces series:
Lip Synch series:
I also didn't realize that Peter Gabriel's Sledgehammer music video was done by Aardman at their studio in Bristol! Watching the video now sure took me back, and got the song stuck in my head for days. You can enjoy the earworm and amazing video too, here on his YouTube channel: Peter Gabriel – Sledgehammer (HD version)
Commercials factored heavily into Aardman's financial success, but aside from references to a few specific ones, they didn't talk about them much. I was surprised that the Serta sheep commercials in particular weren't mentioned (I wrote about them in 2003). Here in the US those sheep are quite famous and people loved the plush sheep, I have six of them! There are still several playlists on YouTube that have collected the old sheep commercials, they're a lot of fun. As a computer person, I also enjoyed the Enterprise 64 commercial, "Dem Bones" which was mentioned in the book. It's technically brilliant and fun to watch, even if the company went out of business not too long after the commercial aired.
It was also allowed me a good excuse to introduce my beloved Aardman favorites to my two year old. Now, obviously, at two there are limits to what he can really enjoy, but after watching A Grand Day Out he brought me my Gromit stuffed animal and asked for more, so I'm calling that a big win! He also enjoyed a bunch of classic Morph, and the book led me to the Morph kickstarter that they did a few years ago, and subsequently published on the Morph YouTube channel.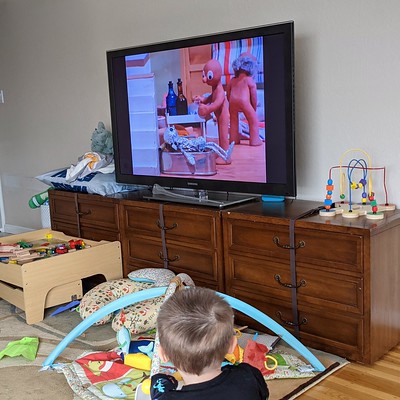 The feature films are next on my list. I've seen them all, of course, but now that I've read the work and history of all of them, there's a more personal connection to them. Particularly of note, I struggled to enjoy Early Man because the football (soccer) segments were seemingly never-ending to my American sports attention span. I'll give it another watch. I'm also eager to watch The Pirates! again, since I watched it when I was pretty far-removed from my Aardman fandom moments, and I don't think I took enough time to appreciate it.
Finally, I've expanded my collection of Wallace and Gromit goodies over the past month, finally hitting eBay and other collectable sites to pick up a few things I've always had my eye on. It's certainly been a fun thing to spend time searching for during a pandemic!
I highly recommend the book. Peter and David are exceptional people and their company is a true artistic and financial success that has stayed true to their roots. I especially enjoyed at the end where they talked about their local involvement in Bristol and the work to establish an employee-owned collective-like organization for the future. Kudos, folks! Looking forward to more Wallace and Gromit.